Moved to the Southern US asks:
My husband and I (immigrants from [an Asian country]) have done very well for ourselves lately, and after living in a 2200 sq ft house in a standard subdivision with mostly people affiliated with the local university, we saved up and built our own house where the minimum allowed house size is 3,500 sq feet and there are plenty of trees and lots of land between houses.  Lot sizes are big.  According our HOA, we could have horses if we wanted, but nobody does.  On one side of us lives a surgeon and his younger SAHM wife with their two children (neither of whom are close to my children's ages).  On the other side are a couple of older lawyers (we think) whose children are grown (we think).

We moved here mid-September, so this is our first holiday season here.

Recently the SAHM gave us an enormous box of homemade cookies.  Along with the box she provided a holiday card and a lengthy very personal holiday letter with pictures and information about their "magical" summer vacation.  There were also a lot of bible verses.

The cookies were, sadly, not very good.  Neither my toddler nor my growing pre-teen ate more than one, which is saying something.  (Our builder also gave us a tin of cookies as a holiday gift, but there were a lot fewer cookies and they were good!)  We ended up throwing them out and sending a thank-you note.  My DH initially wanted to invite the family over for tea, but thought better of it.  We thought about reciprocating, but… it seemed weird and we don't want to encourage such gifts.

This morning [a Saturday] around 7am while we were all still in bed, we got a knock on the door and it was our other neighbor, the lawyer husband, with a box from honeybaked ham for us.  My husband groggily thanked him and took it inside.  When we opened it later, it had an entire ham in it with a price tag for almost $60(!) along with a Christmas card saying, "Hello neighbor, have a wonderful Christmas!" with the word "Christmas" underlined twice.  I've never met the lawyer couple and know very little about them.  My husband has not talked with either of them much either.  (We'd at least seen the cookie neighbor around the neighborhood while walking our dog, though we couldn't tell you the names of her kids.)

Is this normal?  Do we write a thank-you note?  Are we expected to reciprocate in kind?  I don't want to spend $60 on someone whose name I don't even know.

We are Christian and we do like ham, so we will be eating it, but we would still have preferred not to have gotten this gift.
That definitely sounds WEIRD!  It is so tacky to leave a price tag on a gift!  What is up with that?
And who gives a HAM?  And who gives a ham 4 days before Christmas?  I may be biased a bit because I don't like ham and we're about to leave to visit relatives (and there is usually a lot of ham at Christmas dinner but without pineapple which is the only thing I like about baked ham so I can't imagine coming back to an entire ham after that).  There's so many people who can't eat ham, not just for religious or vegetarian reasons, but also for reasons of cholesterol and salt content.  That's just so WEIRD.  (Also, not a fan of Honeybaked ham– they somehow seem even saltier than normal.)
Let's assume that there's nothing overtly racist about either of these neighbors, they just can't imagine a world where anybody wouldn't be Christian.  It's just easier to live that way.
I find people over the age of 25 who proselytize to not be very interesting to talk with, so I think not having tea and just sending a thank-you note was the right call there.  (My students often outgrow the proselytizing as they meet more new people–it's just how they were raised.)
My guess with the holiday letter and cookies is that they had a bunch leftover from their friends and family giving and decided the neighbors would get the overflow.  Possibly she went to a cookie party (where people make and trade huge batches of cookies), though if that were the case *some* of the cookies would have been good because they'd have been made by other people.  So you got the letter because she had some extras printed out, not because she really wants you to know about her vacation.
As for the ham… I was completely mystified about that too until I talked with one of my friends who knows more rich people than I do.  (Technically we know a lot of Silicon Valley rich people, but Northern California rich is a lot more like upper middle class most places, and most of them are only first generation rich because of the dot com boom.)  She said he's probably giving said hams to everyone on his list without really thinking about it.  $60 seems like a lot to most of us, but it's like that arrested development clip with the banana.  They don't see it as extravagant because they can't.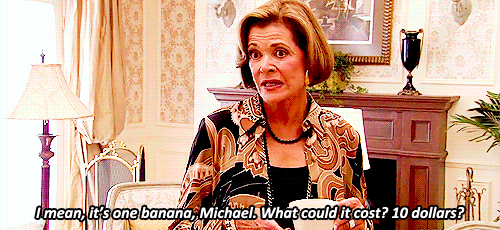 [This, grumpy nation, is but one reason that we need higher marginal tax rates.  Wealthy people should not be gifting each other bad hams!  What a waste!  (Personally, I'd try to give it to our local food pantry, but I don't know they'd even accept it and they're impossible to get on the phone.)]
So, Moved to the Southern US, eat the ham as you wish and write a thank you note as you did with the cookies.  Either they're giving you outsized gifts because you're new to the neighborhood and they'll scale down next year, or these gifts are such a small part of their lawyerly budget that it just doesn't seem over the top (and maybe you'll just come to expect your annual ham until it's time to move to a nursing home).  Send a thank you card and move on.  You do not need to reciprocate!
Makes me glad that the only gifts we get from our neighbors are the occasional much appreciated overflow summer tomatoes!  Oh, and when DC1 was little a number of our neighbors used us as an opportunity to get rid of outgrown toys and clothes, which was also appreciated.  Also, several years ago we did get into a banana bread war with one of our neighbors– she ran into DH doing yardwork one evening and they got talking and she mentioned she had lots of extra bananas from her work and somehow that ended up with him getting a bunch of very ripe bananas, which he turned into several loaves of banana bread.  So he gave one to their family…  And then she gave us another loaf of banana bread in return.  At which point I'm fairly sure we realized we needed to stop, but it might have gone another round.
Grumpy nation– Do you get holiday (or other) gifts from your neighbors?  Have you ever lived in an upper-class neighborhood and is it different from where those who barely qualify as having mcmansions live?  Do you know rich people and do they give you hams?