Here's another post from 2011, noting an internet phenomenon.  We were going to do a big post on it, but then XKCD summed it up beautifully in just a few panels.  Here's what we had:
People who do something small sometimes get yelled at for not trying to reform an entire system.  This sucks.
In reality, we CAN make small changes, but grappling with a large change may not help people in this lifetime.  Some people focus on only the big needs, but we only have a limited amount of resources and doing something is generally better than doing nothing, so long as your cause isn't something based on hate.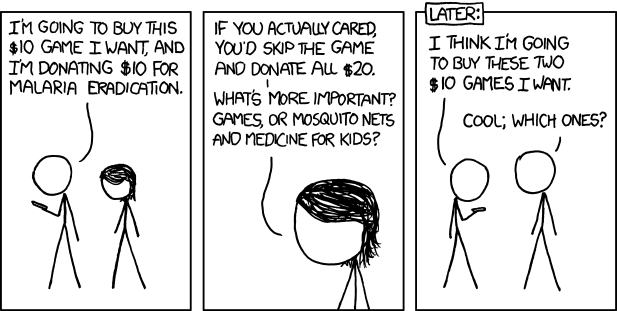 As a 2022 update:  One of the things that bugs me is that white men and Republicans often get passes for not doing anything at all, or for being actively harmful, while people who are trying but aren't at the top positions of power get condemned for not doing enough.  I'd be happier with the "you're not doing enough" if those same people would spend as much energy shaming the bad guys who are actually doing bad things, or who are doing nothing at all.  Let's have more protests of individual evil Republicans, even though there are a lot of them.